A great on-line resource is Cybrary. It has been an invaluable service to provide another resource to certification. I also appreciate using Cybrary to maintain my continuing education credits (CPE). Some certifications require you to continue learning in your field of expertise and maintain your level of knowledge over time.
Link to Cybrary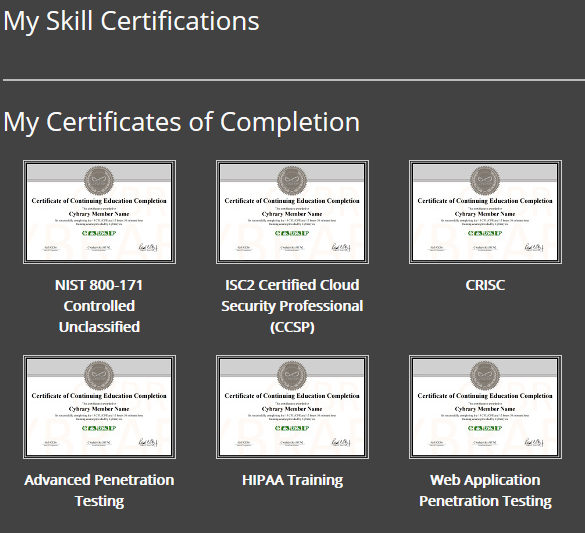 Cybrary
Certified Information Systems Security Professional (CISSP) is an independent information security certification granted by the International Information System Security Certification Consortium, also known as (ISC)².
As of 1 January 2018, there are 122,289 (ISC)² members holding the CISSP certification worldwide, in 166 countries with the United States holding the highest member count at 79,617 members. In June 2004, the CISSP designation was accredited under the ANSI ISO/IEC Standard 17024:2003. It is also formally approved by the U.S. Department of Defense (DoD) in both their Information Assurance Technical (IAT) and Managerial (IAM) categories for their DoDD 8570 certification requirement. The CISSP has been adopted as a baseline for the U.S. National Security Agency's ISSEP program. CISSP is a globally recognized certification in the field of IT security.
https://en.wikipedia.org/wiki/Certified_Information_Systems_Security_Professional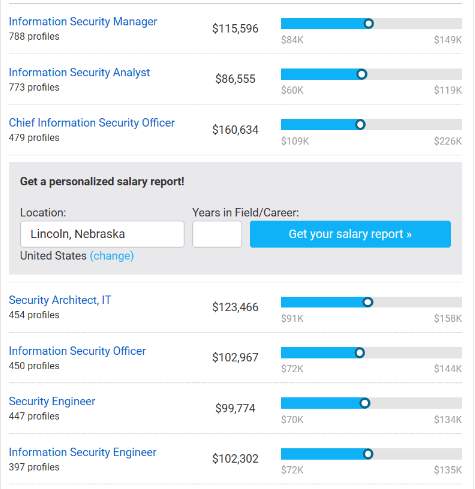 CISSP Payscale
The Certified Information Systems Auditor (CISA) certification has reached its 40th year, and demand for the CISA continues to grow as enterprises place increased value on ensuring their technology is being leveraged securely and effectively. Now more than ever, recruiters and hiring managers around the globe seek CISA-certified professionals for important roles at their enterprises. Here is a sampling of the reasons why.
http://www.isaca.org/Certification/CISA-Certified-Information-Systems-Auditor/Documents/ISACA_CISA_40th_Anniversary_Infographic_0618.pdf
Certification and years of experience can add to the finical stability of a subject matter expert. I currently have a CISSP and a CISA, I chose these two certifications to show knowledge across a wide subject area in the information technology field. If you manage staff, it's important to make sure they stay up-to-date on current trends. Employee's will also stay competitive for higher paying jobs.
Below is the Payscale report for a Certified Information Security Auditor for Lincoln, Nebraska. An Information Security Coordinator has to audit many different areas. Processes, identities, systems, departments, vendors and a number of other information system categories need to be audited. Staying current in the audit field is a necessity to stay on top of your profession.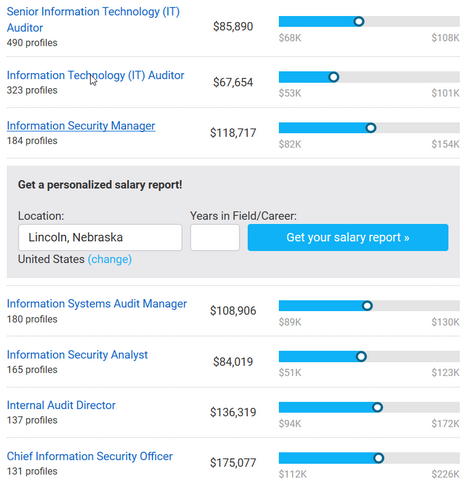 CISA Payscale